A NEW ECONOMIC TOOL FOR PITT COUNTY
New tool gives more accurate measure of financial stability.
A family of four (two adults and two kids) living in Pitt County is classified as living in poverty when the household makes a combined $24,600. That same family would have to make over $60,000 in order to afford basic needs without public or private assistance.
That's a big gap. And filling it requires more than an education and higher paying job. That's why we partnered with United Way of North Carolina to conduct a statewide study that shines the light on this often unknown struggle many families face.
SELF-SUFFICIENCY STANDARD REPORTS
Did you know? The Self-Sufficiency Standard Report for Pitt County shows the level of income families need to be economically self-sufficient depends both on family composition—the number of adults, the number of children, and the children's ages—and where they live. Table 1 below illustrates how substantially the Standard varies by family type by showing the Standard for four different family configurations in Pitt County. 
                                                                                                        Table 1: Self-Sufficency Standard for select family types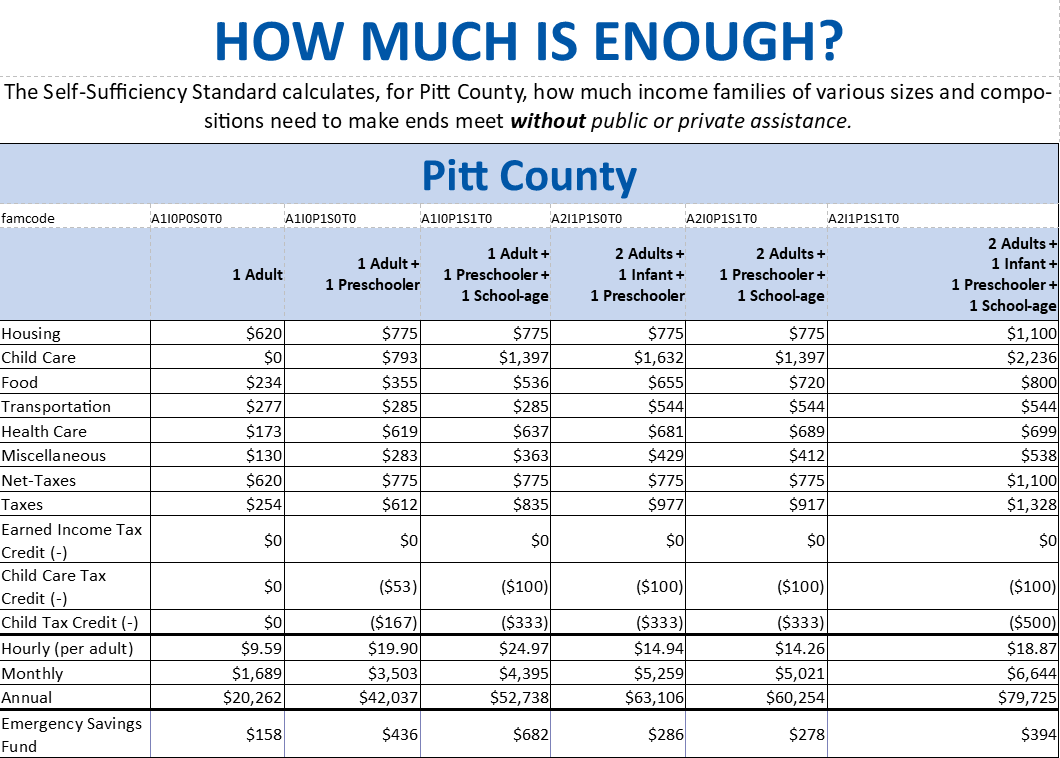 REPORTS AND RESOURCES
Economic Security Pathways Report
Our Money Needs Calculator
Key Reports Findings (Self -Sufficiency Standard Report 2017) 
Do you know how much it takes to be self-sufficient in your county? – download this worksheet and enter what you think it costs for basics in your county and compare the data.
How is the Self-Sufficiency Standard Calculated
USING THE SELF-SUFFICIENCY STANDARD IN OUR COMMUNITY
Across the country, the Self-Sufficiency Standard is being used to help organizations and communities better understand issues of income adequacy and create and analyze policy; and to help individuals striving to meet their basic needs. Use the links below to learn more about some of the ways the Standard is being used.