A stronger community where everyone thrives is possible.
No one person, organization, company, or government can do this alone. If we act together we can reimagine our region and rebuild resilient, equitable communities.
Are you ready to do your part? Join other community-minded businesses that support building stronger communities for their employees and neighbors. Host a workplace campaign in 2021, and give your employees a chance to help their neighbors through payroll deduction. Ask yourself, what more can we do?  Commit to matching the donations your employees make, show them their company is stepping up to make a lasting impact for everyone in Pitt County.  
Together, we can strengthen education, earnings, and essentials for everyone in our community.   
WORKPLACE CAMPAIGN TOOLS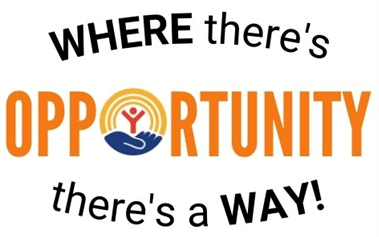 RUNNING YOUR CAMPAIGN
The following materials are meant to help plan, promote, and generate awareness (and fun!) while running your United Way Campaign. 
POSTERS
Print on 8 1/2 X 11 paper or coverstock and display throughout your company.
TABLE TENT
Print on 8 1/2 X 11 coverstock and display in your lunchroom or other locations throughout your company.
Where there's OPPORTUNITY, there's a WAY.   (5 designs)
VIRTUAL ACTIVITIES                      
Even if employees are currently working from home, running a United Way campaign can help reconnect them in a fun-positive way that promotes team building, creates awareness, and helps their community.  
   VIRTUAL VOLUNTEERING                                                                          
Bring your employees together in an activity that engages while building awareness of the needs and challenges facing our communities. Click HERE for a variety of virtual volunteer activities from around the world. Encourage employees to select an activity that they and family members can do together. Take pictures and submit results to share throughout the organization. If your company would like to support a kit-building activity for your employees to participate in, please reach out to United Way to discuss your goals for the activity and the costs per kit. 
WRITE A NOTE campaign!